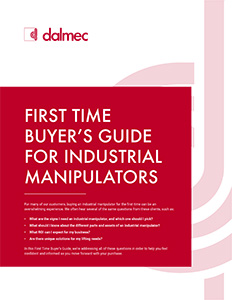 If you're considering purchasing an industrial manipulator for the first time, you may feel a little overwhelmed. With hundreds of options on the market to choose from, it's important to be sure you're making the right decision for your business.

To help you you through the process, we've put together the First Time Buyer's Guide for Industrial Manipulators.

In our free download, you'll learn:

The four questions to ask when buying an industrial manipulator
What type of machine would be right for your needs
The key vocabulary you'll need to know when purchasing
If a custom solution is right for you and more!
This free download can be a useful tool to navigate your first purchase of an industrial manipulator.
Enter your information for an instant download of our buyer's guide